Young Women's access to Sanitation and Hygiene: World Toilet Day 2018
19th November marks the #WorldToiletDay . While concerns around sanitation and hygiene are being discussed and solutions are being sought globally, the linkages around young women, sanitation and hygiene and access to toilet and sanitation-hygiene services is one which needs a lot of work. Globally, there are millions of young women who still live in an environment where leave aside access, even information around menstruation, sanitation and hygiene is a taboo.
In such a situation, a woman from India, Aditi Gupta managed to start a venture to shape the conversations around menstrual hygiene in a world where women's sexuality, hygiene and care wasn't even considered worth discussing.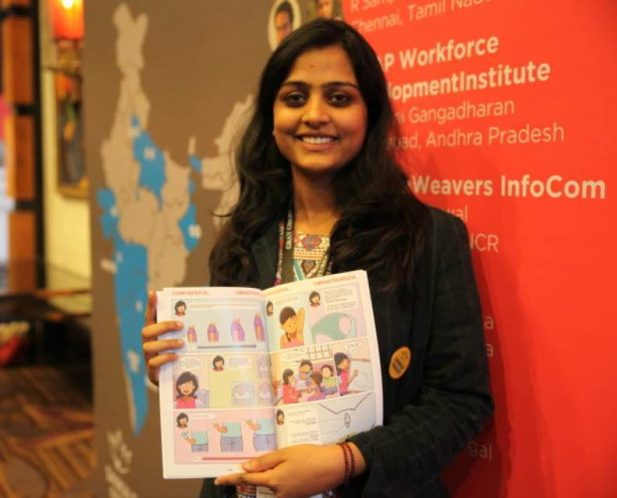 Motivation as a young woman to speak about a taboo topic of menstruation and reproductive rights.
Aditi: Too embarrassed to purchase sanitary napkins and discuss menstrual troubles, I spent a chunk of my teenage years figuring information on my own. I started menstruating at age of 12, but it wasn't till the age of 15 that I got to know about 'periods' in detail. A subject that was skipped by teachers led to beliefs in menstrual myths. This lack of information coupled with cramps and period pains wasn't helpful despite all the education I received for years. Browsing the internet constantly for my menstrual troubles, it was during my college years when I picked this topic from both a content and design angle as my project in design school. Gathering extensive research, information and interviews from doctors, I collated my first idea of a comic book to be tested for menstrual education, put up on a website.
I remember that 80% of information was seen as new by a number of users of the website. A revelation that even educated people lacked awareness. During the very start we got a number of readers including a number of young women and men coming and sharing experiences with us about the lack of clarity around hygiene and sanitation of women.
We have over the years seen a growth in our readers and people have directly engaged with us, seeing the comic book as a tool for menstrual education. It has been used by more than 6000 schools, benefiting over 10,00,000 girls alone in India in over 14 languages. Globally, the comic has been used in more than 18 countries as a communication and education tool. Coupled with discussions and trainings around menstrual hygiene, the comic has become an advocacy tool for us and many others on many global platforms. From a taboo topic, reproductive rights education and menstrual hygiene for women is now out in open. All in a span of 5-6 years. We now have the comics in multiple languages and the videos are accessible for all to understand menstruation from an edu-training perspective instead of a boring information documentary. The Hello Periods video and DIY video is free downloadable in 9 languages and has benefited a whole larger generation.
Importance of access to hygiene & sanitation and its linkages to menstrual hygiene is supreme. What should young women do about this globally?
Aditi: Menstrual hygiene is a very important risk factor for reproductive tract infections. Access to hygiene and sanitation is a basic human right. Access to sanitary napkins is coupled with bias and taboo on going to purchase and buy the napkins. This still exists in local communities. Even with money there is poor access. Public toilets and sanitation are still in a pathetic stage globally. And this is a reality we all live in. A multilayered approach is key- infrastructure, information and access together.
Young women and girls globally haven't been trained to take care of their vaginas the same way they see other body parts. They aren't aware of different ways of managing periods. What if sanitary napkins aren't available? What are the other options? How to confidently look for support? What is the disposal system that exists for sanitary products? Not just awareness but a whole behaviour change is key around this.
When we work with young women and girls, the first step is always to make comparison and showcase to them how critical a body part vagina is and why sanitation and hygiene around it is as important as around the mouth and eyes. This comparison is key to create an understanding of what they are doing when ignoring vaginal hygiene and sanitation. While in many countries, even speaking vagina as a word is considered a taboo, it is critical that in light of health concerns, this taboo is broken and discussions around sanitation include vagina as well.
Another important aspect is self-awareness and comfort around their own body parts. Positive body image and understanding is core of hygiene and sanitation and discussions around reproductive health management on a global level. It all starts from puberty, information around menstrual hygiene and body care, body positivity and changes and links up to the global agenda of reproductive health. Young women need to not only educate themselves but also educate other young women around them to ensure a positive environment around linkages between reproductive health and global hygiene and sanitation.
My experience with young women and girls' engagement has shown that while they put in all their mind into the process of understanding the process, they feel ashamed talking and sharing about it. The aspects around shame need to go away and that is key to understanding how important an open discussion around this is. Once they have that, they can be better advocates of this across platforms including peers, families, communities and global engagement podiums.
At World YWCA, we believe that for young women status to change, they need to co-create and co-design the process of engagement and advocacy on issues concerning them. Some successful examples of the same?
Aditi: Young women and girls are core to breaking the myths around this issue in order to have better advocacy and engagement beyond the young women and girls. We did a science period project in a school sometime back. At a very basic level, as part of our engagement and training we asked young girls to develop live models of the female reproductive system. While they came up with beautiful concepts with tubes and glitters representing the blood flow, they felt confused on how they would take the models and showcase them in school. This is so representative of the fact that while young women and girls are included in designing and creating a process, often the next step around engaging them meaningfully in taking it to the larger platform for discussion, question and deliberation is missed. During our training, we resolved their concerns around the shame aspect of communicating such concerns and advocating for their rights openly.
Issues like reproductive health rights, body control, shame and stigma, and the narratives around hygiene components need to be elaborately discussed with not just young women and girls as mere tokens in the process, but active consultations around them need to happen. That is a good example of a young woman co-created and co-designed process for advocacy around the issues.
What are your comments on the situation of menstrual hygiene, health and sanitation for young women globally? How do you think we can better advocate for this issue at international platforms? 
Aditi: There is a huge scope of work on this issue, especially around the period poverty that exists in developing nations of the world. The global realities around the inter linkages between reproductive health and hygiene sanitation with access and information are humongous. Advocacy and education is core but it has to be shaped based on the cultural and economic contexts of the countries and regions. Like for us, through our comics, in Pakistan the explanation around 'egg meeting the sperm' wasn't appreciated given the cultural and religious context. That is a key step that brings taboos and culture interlinked with advocacy and narratives that define this issue and its future from an implementation aspect.
Another example is use of cloth pads and menstrual cups. They work and don't based on personal choices but also the cultural contexts that exist around us and the barrier in awareness and training. While from environment and sanitation point of view, a menstrual cup comes as a great option sustainable option and is being advocated for a lot, its usage depends a lot of the cultural contexts of young women and girls where inserting an object in the vagina might be a taboo. Usage pf cups is a training intensive option and it requires a lot on part of a woman to adapt to using it. And this is just in reference to urban women. With marginalized, it is a whole new ball game.
It is core to us that we understand these differences before we advocate for solutions across the globe as common solutions to look at. At international platforms, personal narratives have ended shaping advocacy goals and that is something which we need to stay away from.
Here is a Ted-talk from Aditi. For more information, visit her website.