"I am not free while any woman is unfree, even when her shackles are very different from my own." When asked for her favorite quote, Sophia Pierre-Antoine gave this one by Audre Lorde and by looking at her life and work, it is clear that this statement has been a driving force for Sophia. Sophia was raised in Haiti with a sister that advocates for women's rights and a mother that is active in the church. Inspired by these women in her life, Sophia became involved with the YWCA in Haiti. After graduating from high school, Sophia went to Stony Brook University to study sociology and women and gender studies. While at Stony Brook, Sophia remained active in advocating for women's rights through leadership in feminist clubs. During the summers, she would return to Haiti where she mostly worked with young girls directly, organized events and did campaigning, curriculum design and training. She worked with young women and girls to teach them about their rights and bodily autonomy.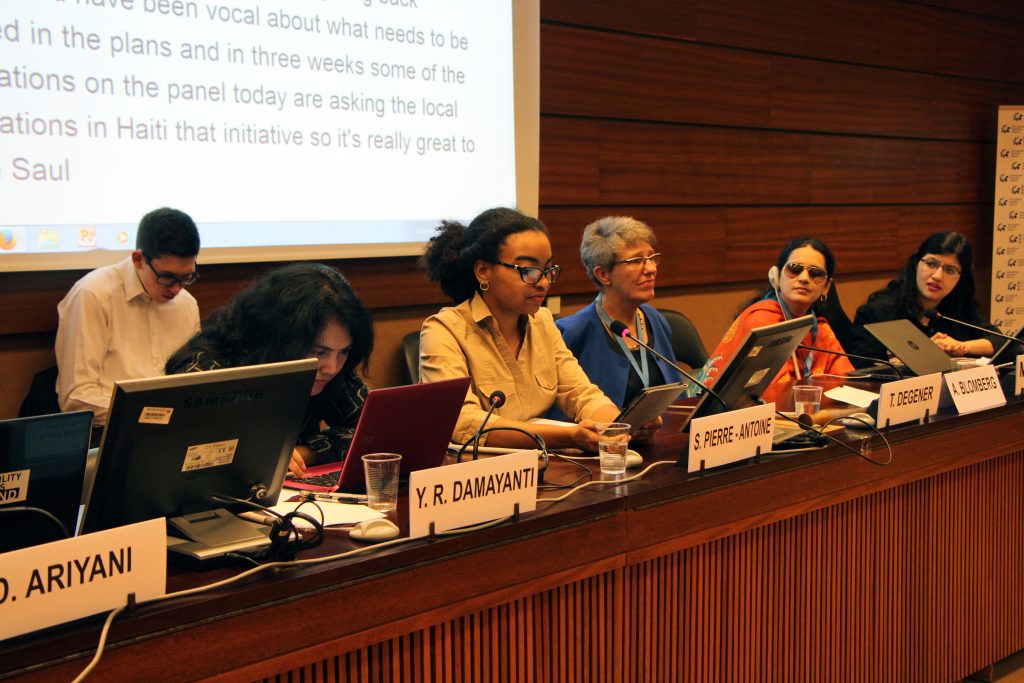 When she finished her studies, Sophia became the programme officer, then the programme coordinator for the Youth Center of YWCA Haiti. With her involvement, the center started to focus on younger girls and active membership grew from 80 to 180 girls. The themes she worked on were the promotion and creation of a safe space, leadership, tackling illiteracy, comprehensive and inclusive sexual and reproductive health and rights, self-esteem, and eliminating all forms of gender based violence.
During her time in Haiti, Sophia developed her leadership skills and put into action her value of leaving no woman or girl behind, even when the odds are stacked against them. She told us a story about a young woman in Haiti who she was able to help. "She was repeatedly raped by her father and found a safe haven in the YWCA community. Normally it is very hard to influence the local police, because they often mishandle sensitive cases like this. But through pressure from the board and with community support, we were able to separate the girl and her sisters from their father. We also provided medical support for her and her son. She was 14 years old at the time." This story also exemplifies Sophia's belief that strong leadership is not always about being able to get the job done yourself, it's about rallying a community to work together and accomplish more than any one person could. Sophia says that "Leadership is about a community that goes forward together and people that are helping each other."
After working for two years in Haiti, Sophia applied for the one-year internship in the YWCA World office in Geneva and got the position. There, she worked on projects regarding ending child early and forced marriage as well as sexual and reproductive health rights, with the YWCAs of Cameroon, India, Ethiopia, and Democratic Republic of Congo. She also co-organized advocacy events during international platforms such as the United Nations Commission on the Status of Women (CSW), United Nations Commission on Population and Development (CPD), and Women Deliver, with the goal of bringing young women's voices to decision-making processes.
As Sophia was presented with more opportunities in Geneva, she developed her leadership further by being intentional about making sure everyone in her community was growing with her and having their voices heard. Sophia told us that "It is important to recognize when you should shut up. If you let others speak, learn from them and push them forward, everybody will gain something. Sometimes people think being a leader is about telling which direction to go and others that are listening to you. But if you do that, no-one will gain anything. You might get a little further personally, but not in the long term."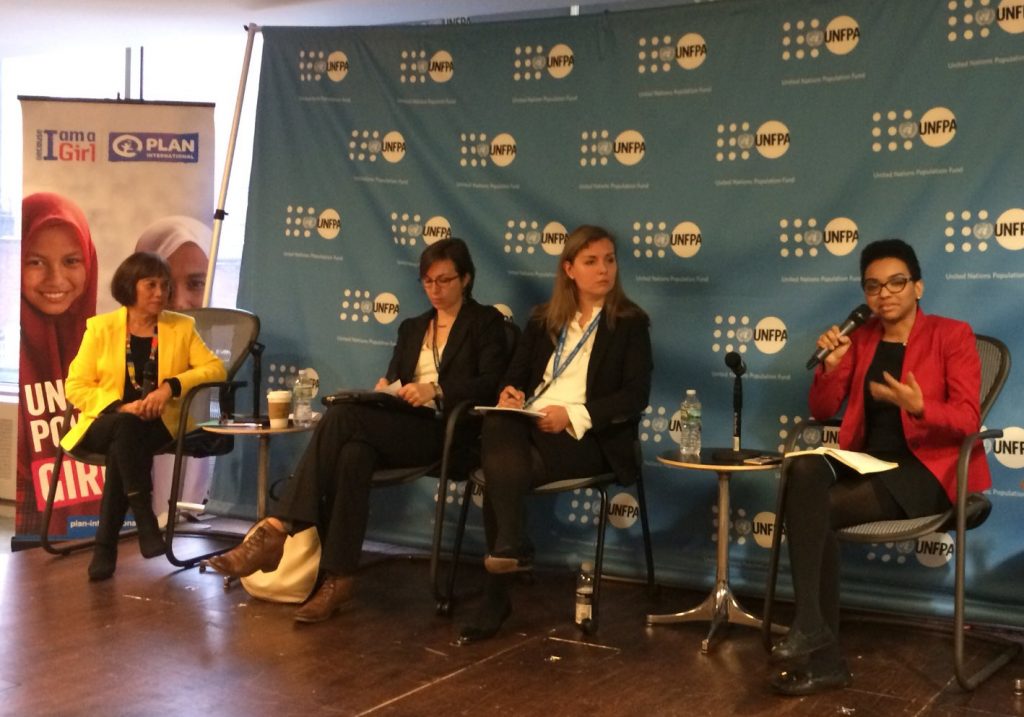 This is why she nominated another young woman to go to an advocacy-opportunity at CSW instead of her. By acknowledging that sometimes the title role is for someone other than you and putting that person in the right position, you lead. The young woman became very enthusiastic about women's rights and now wants to pursue feminist international  advocacy more, which is splendid to Sophia. She says: "The whole process of helping others and others helping you forms a cycle of women's leadership. And that is exactly what we need to do. In order to get more women at the decision-making tables, we need to push each other in the right direction. We need to get a diverse set of women, who actively support human rights, to take up space."
Motivated by her experiences working at the community and international level, Sophia is currently earning her Master's degree in Development with a focus on Gender and Conflict at the Graduate Institute of Geneva. Sophia keeps in touch with her YWCA Haiti family and is on the World YWCA's Global Advisory Council. Additionally, she is the Board Co-Chair for FRIDA Feminist Fund, a fund financing young women and trans-led initiatives globally. Linking youth, gender, and conflict, Sophia contributed to the Progress Study on Youth, Peace and Security for the UN Security Council Resolution 2250 and advocates for the inclusion and support of young peacebuilders. Her contributions got her an invitation to speak at the UN Security Council as a briefer on gender, youth, peace, and security during the first Open Debate on the subject alongside the UN Youth Envoy and a young woman from the Central African Republic. They made history as it was the first time that three young women briefed the Security Council.  Sophia inspires us to always be aware of the young women and girls on the margins, to recognize intersectionality in discriminations against women, and to leave no woman or girl unfree.
To get in touch with Sophia and keep up with the incredible work she is doing connect with her on Twitter! 
This post was written by Olivia Haskell based off of an interview with Sophia conducted by Ilse Nol. Olivia is an undergraduate student at Colgate University in Upstate New York studying International Relations and Religion. Olivia is an intern at the World YWCA office in Geneva during her semester abroad and is working in the Young Women's Engagement Team.
This article was taken from the case studies of YWCA young women leaders, compiled and written by Ilse Nol. A big thank you to Ilse for her dedication and volunteering and to all the young women that participated in sharing their leadership journey within the YWCA movement. Thank you for your inspiration!