The World YWCA doesn't do advocacy by half measure. Picture 1,000 young people from every continent queuing in the bitter cold New York streets for a seat in a plush chair and chance to share their voice inside the United Nations headquarters. There are not many things we would queue for in minus 7°C weather, without wifi, early on a Saturday morning. For a feminist event the scale of the UN Youth Forum last weekend, we will.
Every year the United Nations opens its doors to civil society and organisations working on gender equality for a two week session called the Commission on the Status of Women (CSW). Historically, there has been little space for young people to have their voices heard at the UN, including at CSW.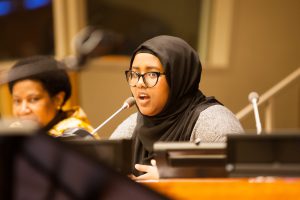 In 2015, World YWCA and UN Women made history when they held the very first Young Women and Girls Forum at UN CSW 59. Now in its third year, this crucial space for young voices to unite and rise has moved from a dingy building three blocks away to one of the main rooms inside the UN.
Here are some thoughts – in Spanish and English – from Andrea (YWCA Honduras, World YWCA Board member) and I after the first day of the 2017 UN CSW Youth Forum:
At the risk of sounding like a broken record, we're hoping to see more young women and girls on stage throughout CSW 61. My first experience of this giant international body was at the UN General Assembly in 2014. My second was at UN CSW 59 in 2015 – when member states reflected on the past 20 years of gender inequality. To say I was disappointed is an understatement. Watching stuffy 'high level' discussions around international human rights legislation and policy become increasingly unwelcoming to civil society left me low.
I suffered a dip of depression and anxiety in the week that followed UN CSW 59. I remember sitting on the floor of my flat, feeling empty and questioning the point of encouraging young women to speak up. I felt like I had wasted valuable resources attending what was more akin to a glitzy PR event than an opportunity to make the world a more peaceful and equal place. I met a Law student from YWCA South Sudan who faced forced marriage on return from CSW and I felt angry at the hypocrisy of her sat listening patiently to hours of promises to end forced marriage, poverty and gender-based violence, her own story overshadowed by the empty rhetoric of the UN.
It's all very well sitting and feeling sad about injustice on my bedroom floor but it didn't get me very far. I learned a lot about myself from that experience and time spent with other YWCA leaders has had an unparalleled impact on my life and work. I decided to come back to the UN. I'm here with over 120 YWCA women. This time, we're going to turn our frustrations into a message that has the power to make a difference both here at the UN, and in every other workplace around the world:
Dear distinguished delegates of CSW 61 without a temporary T on your UN pass, pledge to support #YoungWomenRise wherever you are. It's as simple as passing the microphone to a young woman on one of the many occasions you are invited to speak at an event. It's the difference between sharing an advert for new Board members and actively encouraging young women to apply. Be mindful to feature diverse young women's voices in that story you are writing or media package you are putting together. That young woman you passed in the corridor of the UN? She's most likely the CEO running a national NGO that implements Goal 5 at grassroots level, a role model to the thousands who read her inspiring blog, or the midwife that saves lives and performs miracles every day. She's your equal.
And finally…
Dear UN Women, here's a radical idea: how about when it comes to the next Commission on the Status of Women Youth Forum, it's handed over to some of these spectacular young women to design and run. Every young woman in the audience at CSW or watching online is just as unique, talented and capable as the next person. Count us in.
Kara Brown is the General Secretary of YWCA Scotland and sits on the Nominations Committee for the European YWCA. She's YWCA Scotland's youngest GS in over 160 years and one of 4 young women who sat on the World YWCA Envisioning 2035 Working Group in 2015. Kara is volunteering with the World YWCA communications team at UN CSW 61.